Uuni Pro: The world's best outdoor oven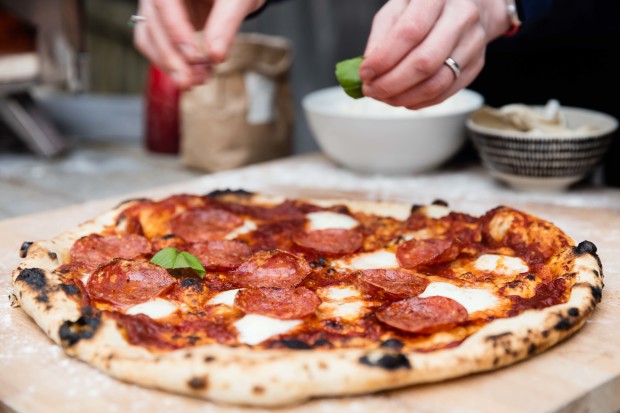 Capable of baking up to 16" pizzas
It's been 4 years since we ran our very first crowdfunding campaign which lead to the launch of Uuni: the world's first portable wood-fired oven. We're so grateful that campaign backers enabled us to bring our initial spark of an idea to market and we're proud to say Uuni is now in over 60 countries around the world and has received fantastic press, customer feedback as well as multiple awards. Uuni prioritises innovative design, ease of use, quality build and affordability and has opened up wood-fired cooking to a whole new global audience.
We are a company that has been built on connections and community and so it feels only right that we launch our next product here as a crowdfunding campaign: Say hello to Uuni Pro! 
Uuni Pro has been over 2 years in the making. Our new Uuni Pro is a continuation of the innovative Uuni vision which offers game-changing versatility at a great price. Uuni Pro users will experience extreme cooking and versatility. Uuni Pro is quad fuelled which means it can run on wood pellets, larger pieces of wood, charcoal and gas- we are extremely excited about the capabilities of the Pro.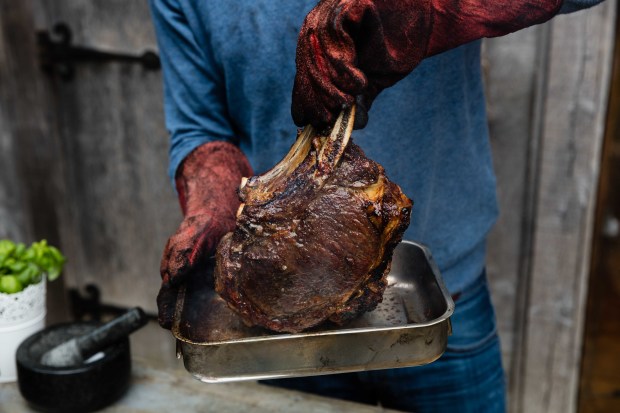 6 lbs. prime rib cooked with Kenji's reverse sear technique
Uuni Pro has twice the cooking surface (17.7 by 17.7" or 45 by 45 cm) of the portable Uuni, which allows foodies to cook a large 16" pizza, roast large meats and fish, bake breads, as well as to roast large trays of vegetables and even make desserts. With the same phenomenal speed and heat as previous Uuni models (reaches temperatures of up to 900˚F/500˚C in only 15 minutes), the Uuni Pro can cook pizzas in only 90 seconds.
Key features: 
Multi-fuel capabilities, allowing users the option to burn pellets, wood, charcoal and gas.
Large cooking surface - enabling you to bake 16" pizzas, breads, roast joints of meat and lots more.
Uuni Pro is easily transportable at approx. 57 lbs or 26 kg i.e. can be moved from table top to garage after use or loaded in the trunk of a car
Patent pending design
We'd love it if you'd help us make this vision a reality!
Just some of the press Uuni has received

Why Uuni Pro?
"We've been absolutely blown away by the response to Uuni from customers, press and retailers around the world. It's amazing to feel like we're creating something that people love! We value the community and feedback above all else and this dialogue drives our innovation forward. Uuni Pro has been a long time coming.
We knew we could create something bigger which enables users to create any dish in their oven. Breads, large meats, trays of roast vegetables and delicious 16" pizzas. The beauty of Uuni Pro is that it's still transportable and that the multi-fuel capabilities truly mean it's the most versatile oven out there. We're proud to be further transforming the outdoor cooking landscape."
Kristian Tapaninaho, Founder of Uuni
It's all about the food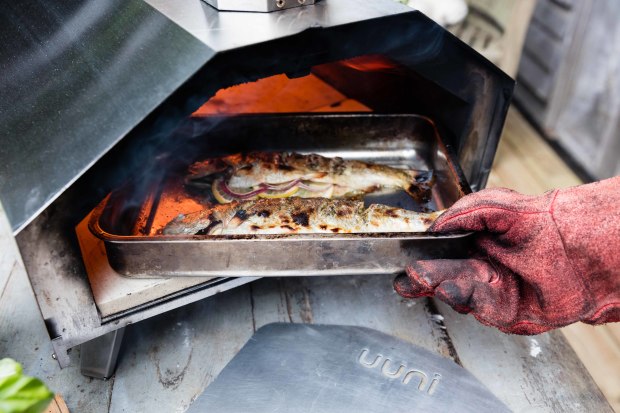 Delicious rainbow trout with lemon & dill. First covered with foil, then finished on the open flames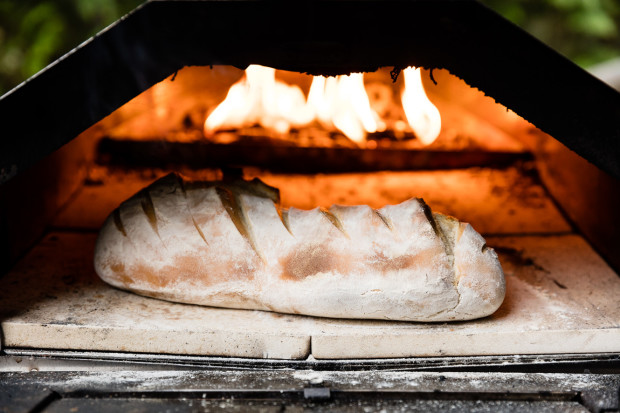 It's time to level-up your bread skills

Here's the prime rib again, it was as good as it looks..

Uuni Pro provides the easiest and best pizza making experience. It really just takes 15 minutes to heat and you're ready to cook the tastiest pizzas you've ever had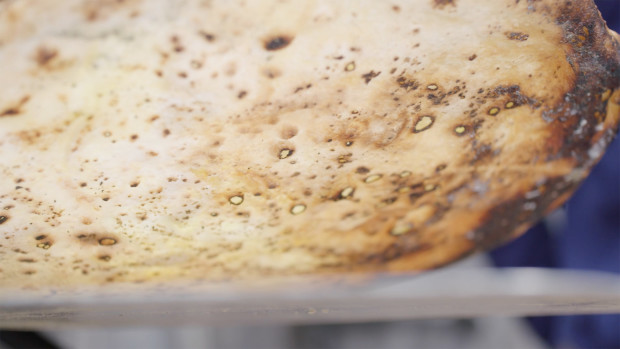 It's all about that base
What exactly is Uuni Pro
Uuni Pro is not just a big Uuni, it's much, much more than that. First of all, its multi fuel capability enables you, the chef, to decide what you want to use to cook your food with. 
Uuni Pro comes with the Wood + Charcoal Burner as a standard. As the name suggests, it's for burning regular wood as well as charcoal. We actually love using the Pro with charcoal to provide the main baseline of heat and then before a pizza goes in we throw on a few bits of wood to give the extra oomph and flavour.
The standard setup comes with our patent pending Pizza Door. This is a removable door that has an opening to get pizzas in and out easily. But being removable it's easy to take off if you want to put in a large piece of meat or bread. Or just want a better view of the flames.
As an Indiegogo special, backers of the campaign will receive the Uuni Pro Full Door as well as the our new Pellet Burner for a steady even heat.  The door, as seen in the photos, includes a window so you can see the food cooking and a thermometer to keep an eye on temperatures inside.
After the campaign we're also making available a Gas Burner for the Pro for $30 (a special price for campaign backers). The reason for not including it in the main reward is restriction imposed by certification requirements in different countries. E.g. we want to make sure we're allowed to sell in your country.
As with our previous Uuni models Uuni Pro takes fuel at the back of the oven and food goes into the front. The Wood + Charcoal Burner can be loaded from a hatch at the back. The Pellet Burner sits behind the unit and has a hopper of it's own. Details of the Gas Burner will be released soon. 
We've also gone back to the drawing broad to redesign what an Uuni looks like. The sleek new body hides inside it a layer of insulation to further enhance performance. Overall the body, with its stone baking board and door weighs around 57 lbs. (or 26 kg) making it transportable; it's easy to move to the back of your car or into your shed for safe keeping.
Uuni Pro Size: Length: 29.13" (740mm) Width: 19.29" ( 490mm) Height: 31.1" (790mm) 
Large cooking surface: 17.7 by 17.7" (450mm by 450)
The majority of the body is made of high-grade 430 stainless steel to ensure it keeps it's beautiful appearance as long as possible and it isn't affected by the elements. (Please note the Uuni Pros featured in this campaign video and in the images are pre-production samples.)
The planned retail price for the above setup of Uuni Pro is $599 (£499) . By backing our campaign now on Indiegogo you'll not only save money but also make sure you're one of the very first people in the world to get to experience Uuni Pro.
What's in the box:
Uuni Pro
Stone Baking Board (Removable)
Pizza Door
Wood + Charcoal Burner
Pellet Burner
Uuni Pro Full Door
Pizza Peel
(Backers of the Early Bird Perk also receive the Uuni Pro T-Shirt)
Uuni care passionately about sustainability and as with our Uuni portable oven and wood-pellets we will plant a tree for each Uuni Pro we sell.
Free Shipping for US, UK. Other countries priced separately. 
Where are we now and why PledgeManager?
We have been working on Pro tirelessly for the past two years and needless to say we're super excited to be finally in the position to let the world know about it.
Starting in May 2016, we've been making prototypes with the chosen manufacturers (the same ones who also make our super popular Uuni 2S). They are very familiar with the product and have started now preparing tooling for manufacture. We've paid for this - a cost of around $50,000 - and it's progressing to plan. In January 2017 we finished our patent application which means we're now ready to go public about Uuni Pro. We're currently in the final stages of manufacturing and have begun collecting shipping confirmations
We've invested heavily in this product - time, resources and money towards tooling - we now need your help so we can begin manufacturing at scale!
Experience you can trust
These last few years of experience in design, manufacturing, global logistics and fulfilling orders have been truly invaluable and we believe we are in a great position to make sure that this project is as smooth as possible. We have a fantastic and trusted relationship with each member of the chain- meaning that we are confident that we can deliver outstanding Uuni Pros to you this summer. 
Other ways you can help
If you're not ready for Uuni Pro just yet you still can help the campaign by letting your your friends know. Or even better- just think of that one friend who you think might just LOVE Uuni Pro and send them a link to this campaign. We'd really appreciate that.
We also have an exclusive Pro-backer T-shirt that'll just be available via this campaign.
THANK YOU SO MUCH!